I had had been recommend the restaurant Bellecour many times by friends and coworkers, so I was excited for Kerby and I's weekly Thursday date night here and to finally to see what it is all about! Immediately upon walking in, I noticed the sophisticated ambiance when checking-in with the host and hostess for our reservations. Unfortunately, we were told we would have to wait for our table, even though we were on time for our reservation. Thankfully, they allowed us to sit in the bar and offered to take our drink orders as we waited for our table. It was 20 minutes before we were seated and another 10 to 15 minutes after that before we received the drinks we had ordered. This made the wait for our reserved table seem extremely long. However, the ambiance is nice, and the lighting is great. All the staff is wonderful!
          If you are in a relaxed mood and want a slow multi-course dinner experience over the course of a couple hours, this is your place to go. If you want to be in and out within an hour or so, you'll probably feel a little time conscious.
          Thankfully, our server was outstanding when we were seated at our table! She checked-in with us frequently to make sure our food had arrived and was to our satisfaction. We started our meals with a salad, I ordered the green salad and Kerby ordered the beet salad. Both salads were simple yet very flavorful with delicious herbs and crisp greens and delectable dressings and accents to the flavors.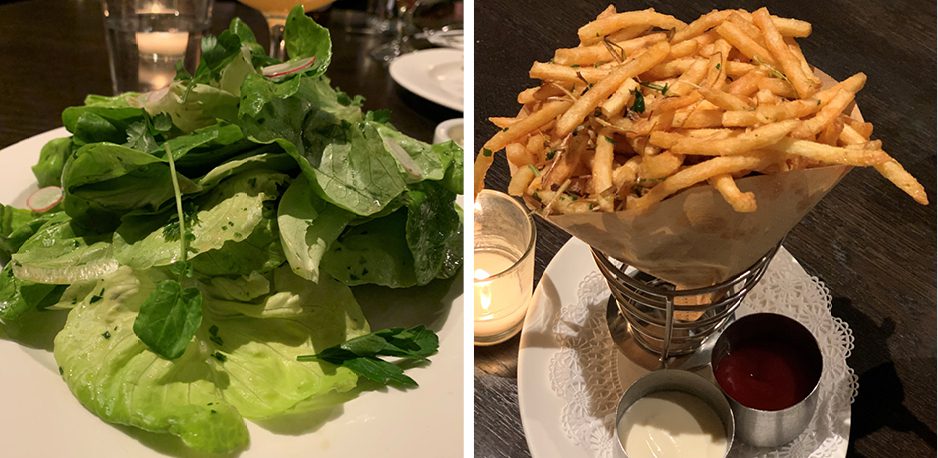 For our main courses, Kerby ordered the duck for his entree which he found a little underwhelming in both quantity and quality. I ordered the seared scallops which were absolutely delicious. The taste and quality were exceptional but it was a little surprising to see only two scallops and a small side of potatoes were included in the price of $31.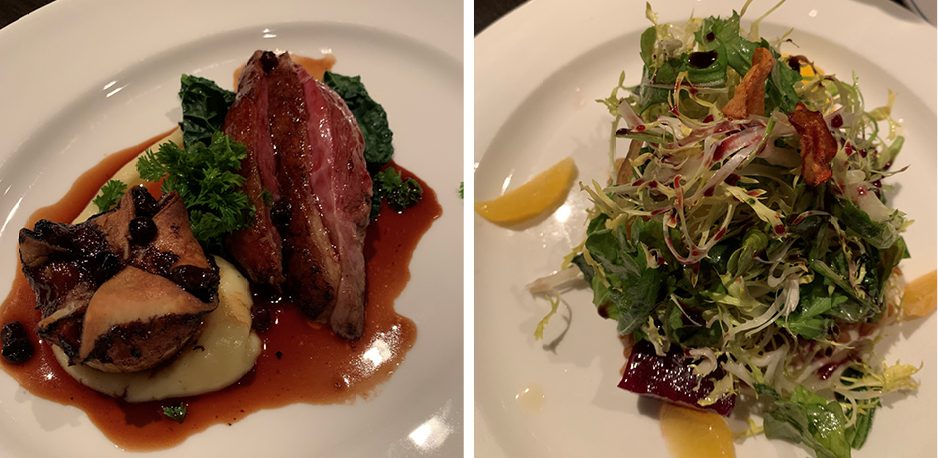 The dining experience here was slower and by the time we were served, we were starting to worry about our babysitter and arriving home at the time we promised. The server took notice of our timing, so she quickly brought us the check with a variety of desserts to go, courtesy of the house. She even included a dessert for our nanny which was a very thoughtful and an appreciated gesture! We taste the hazelnut dessert which was light and delicious! I enjoyed the creamy consistency. She also sent little cakes with cranberries which were tasty and perfect for the winter season, sprinkled with pretty confectioner's sugar.
          Overall, I would rate Bellecour a four for food quality, a 3.5 for price, and a five for ambience. It was certainly a stylish restaurant with lovely staff, but I found the wait for the table, the wait for drinks, and the wait for food outweighed the enjoyment I had with my dining experience here. Maybe next time we won't plan on an evening with a limited schedule and find it more enjoyable!