A crisp chill in the air, the turning of leaves and the scent of pumpkin spice are all hallmarks of fall.
There's no doubt it's a beautiful season, and if you're planning on selling your home, you can capitalize on all the good work nature already provides for us when staging your home.
Accentuate the Positives When Staging Your Home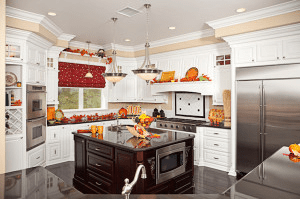 You want your home to stand out when you put it on the market, so start with the exterior of your home.
To play up the fall feel outside of your home, clean flower beds and rake any leaves off your lawn—the first thing buyers should notice is the changing colors on your trees, not the muddled dead leaves on the grass.
Add a wreath of seasonal plants on the front door for a finishing touch.
In the backyard, store away any summer items like pool floats, inflatable water slides and tiki torches. Add fall-related decor like a self-contained fire pit and warm-colored cushions on your patio furniture to create an outdoor space perfect for chilly evenings.
You can also add a pumpkin to the front stoop, but don't carve it up because it will spoil much faster.
Bring the Colors Indoors
Autumn's natural color scheme is warm and earthy, reminiscent of cozy, fireside nights.
To bring some of that warmth inside, fill vases with red, orange and deep yellow flowers like marigolds, Mexican sunflowers or strawflowers. Place vases in the entryway, in the master bedroom and on top of mantles to add color throughout the house.
To make your home feel cozy and inviting, invest in throw blankets or pillows in the same shades as your floral arrangements. Place the pieces around your living room and bedroom to draw out the fall colors.
Add dried decorations, like dried wheat or dried cornstalks, to fill in empty wall spaces with that fall feeling.
Use Favorite Fall Foods
The pleasant scent of fresh-baked cookies or a warm apple pie wafting through the house can trigger memories of comfort and home.
To tie in with the season—and the much-beloved holiday foods—light some candles scented with apple spice, pumpkin spice, cinnamon, cranberries or ginger spice.
Don't Overwhelm
While adding a bit of color and warmth will help buyers picture holidays ahead, keep your decorations clean and minimal.
Avoid overpowering a room with too many flowers and candles, and always remember keep personal items tucked away.
Source: Realtor.com