Terzo is on a very cute corner on Penn and 50th in Southwest Minneapolis. It is owned by Broder's restaurants. The ambience inside is very nice, with exceptional use of a small commercial building. There is a long bar and when you go in towards the right, an area for sitting down and eating. There is a very attractive border made from corks. There are also really cool lighting fixtures. Fun and tasteful!
We chose to sit outside on the patio given the beautiful evening, and surprisingly it was mostly wide open, while the interior was pretty full of customers. The ambience outside was pretty nice and relaxed, considering that it is an active area, although the air conditioning unit made a fair amount of noise. I guess we will give it some grace given it's an older structure in South Minneapolis!
Our server, Johan, was wonderful and extremely friendly and helpful. I decided to try some of their wine since they are famous for their wine. I did not have a strong preference except for wanting something fresh that would fit the warm summer evening, so Johan chose a delicious, fruity, and fresh rosé that was perfect for enjoying an evening out. Kerby took his recommendation as well – their ginger beer, which was good, although a little sweeter than many other kinds.
The server walked us through the menu items and answered the many questions we had. They have a great mix of small appetizers, larger appetizers, their signature pork sandwiches, and many main dishes and pasta dishes.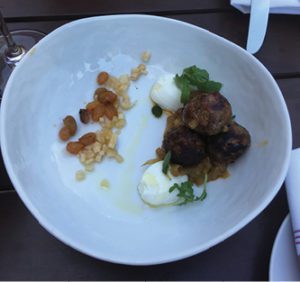 After some thought, we opted for the lamb meatballs. Those were absolutely to die for! They are incredibly deliciously seasoned and come paired with a couple scoops of creamy goat cheese, yellow raisins, and caramelized onions. This appetizer is for sure worth trying!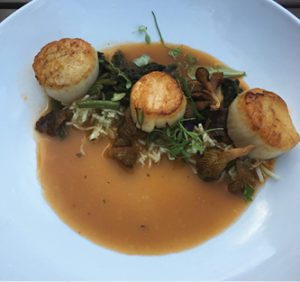 Kerby was very excited about the scallops he ordered, although at $27, three scallops did not seem like enough. The taste was good, but the portion was light. It came on a bed of spinach and some greens, and the server poured a fish broth over it for a beautiful presentation.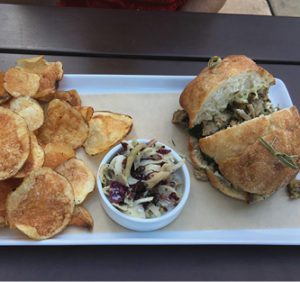 I ended up deciding on their pork sandwich, which was one of their signature dishes. The housemade chips were delicious, crunchy, and salted to perfection. The sandwich itself was fine, although in my humble opinion, it could have used more flavor or spices. It was on a good brioche bread, but overall bland for my taste buds that like some flair. It came with a radicchio side salad with raisins, which was nice as well, but could have also used a bit more flavor.
Overall, we enjoyed our time there and thought the service, our server, and the wine was excellent. It might not be our top go-to Italian restaurant in the future, but we would certainly enjoy going back again if the opportunity presented itself. Next time, we will go back for the pasta! Hopefully by then, they will have increased their portion sizes for hungry dinner-goers like us!
Star Ratings:
Food: 4
Atmosphere: 5
Price: 3
Overall Experience: 4
2221 W 50TH St. Minneapolis, MN 55419 http://www.terzompls.com