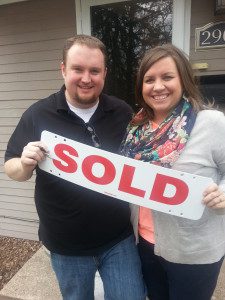 Patrick and Dannica are newlyweds and now first time home owners. They were kind enough to allow me to help them purchase an updated 3 bedroom, 2 bathroom, 2,300 square foot split level in Crystal.
Patrick and I used to work for the same company but did not know each other at the time. One night at Tom Reid's we were introduced to each other by our mutual friend Mick who also used to work at that same company. We would see each other at social gatherings but it was social media that lead to this new home. In December, when I was on vacation in California with my wife, out of the blue Patrick sent me a Tweet asking about a house. Patrick told me he and his fiance, Dannica, were getting married in March and wanted to buy a home in May.
The original plan was to just keep an eye peeled. They were in the middle of planning a wedding followed by a 2 week honeymoon in Australia and New Zealand. Once they got back, we would ramp up the search. That passive home search turned pretty aggressive well before saying I do. As Dannica told me, "That's Patrick."  We had an offer on the table 2 weeks before the wedding. Luckily that offer did not work out. There was a much better home waiting for happily ever after.
Dannica and Patrick now married, returned from the honeymoon and planned on regrouping for a bit before hitting the search hard. So of course we put in another offer within a week of their return. This time the offer was accepted. Dannica and Patrick ended up with a much nicer, more complete home than the first one we went after. The seller agreed to put in a few necessary finishing touches to complete the deal. With Dannica's eye (and Patrick carrying stuff), their new home will really shine.
Welcome home and enjoy being newlyweds and new homeowners!
Ron Johnson