I know Amy and Raymond because Amy's parents live across the street from us. Amy and Raymond are very incredible people. They are humble, hard-working and fun. We had been talking for a few months about their future interest in purchasing a home, but they had mentioned that they were not ready to look yet… until one Sunday evening, they showed up at my door saying they had seen a home in an open house and were ready to move forward. Needless to say, I was surprised as this would be the easiest find ever! 🙂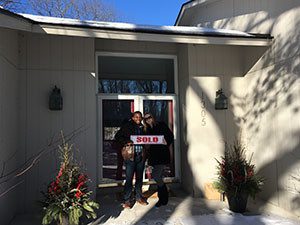 We sat down and did a market analysis. I felt the home was overpriced, and we were able to negotiate a substantial amount off the price to get it to where it should have been. The home was beautiful, and had a very amazing floor plan that was not traditional. The home has a wonderful lot and backs up to chains of little lakes. It is a great area to go canoeing in! The setting is extremely private and should be perfect for their home for many years.
It was a great time to work through helping you close on this home, and I am grateful for your business! Congratulations on your new home!
Lead Agent: Cristina Edelstein-Skurat