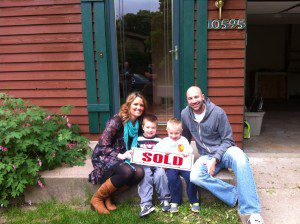 Brian and Ericka had been renting for years, at some points in the past, considering buying a house. They waited until the right time, which was this spring. With two charming and energetic little boys in tow, we met at the office to discuss their home needs many months ago. Over the next few months, we sifted through the details of their financing, the right timing, what programs made the most sense for them, and of course, dozens, even hundreds of homes on the market!
They made a couple offers on properties and lost out in the "highest and best" bids. Finally, when our team helped them find this wonderful home in Maple Grove, they were ready to make an offer that appealed to the sellers even in another multiple offers situation and they got the home! The inspection showed a few minor items the seller was willing to address and voilà! Brian and Ericka moved their little family into a perfect home for their needs for years to come, with an incredible monthly payment on a home of their own!
It was such a fun journey to go on with you and we are so glad we had the honor of helping you with this major purchase! We hope you enjoy this home and neighborhood (and the wonderful yard and play set!) for many years to come.