Kerby and I had the opportunity to help our friends, Dan and Jen, purchase their first home. We had a great personal consultation at our office, going over their questionnaire and discussing their needs, priorities and desires for the home. After setting them up on a pesonalized home search, we did the rounds and checked out lots of homes – from moldy bank-owned hard core fixer-uppers to outdated homes with great layouts to updated, cute houses with the wrong layout for them. We looked at short sales, foreclosures and traditional listings, all the while laughing a lot, which you would do too if you knew this fun couple!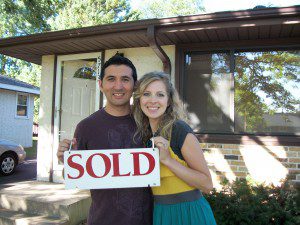 Finally, we found the right home at the right price – minor updates needed, great location, 3 bedrooms, updated bath (with heated floors, which Jen LOVES!) and a great yard. We negotiated hard and worked out a deal that got this awesome couple into a great home for LESS than they were paying for their little apartment!
A few days after closing, Jen shared excitedly with me that they had scrubbed the whole house clean and that they had met some great neighbors, "Cleveland" and "Richard,"  as well as a couple others who were showing what a great and safe neighborhood they just moved into!
Thanks, Dan and Jen – you were GREAT and we so enjoyed having the privilege of being part of your first home purchase.
Congratulations and we hope you enjoy it for many years to come!