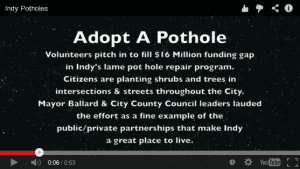 An Indianapolis realtor fed up with the city's potholes decided to take matters into his own hands.
As the City-County Council readied for a vote on whether or not to approve $8 million in emergency funding to repave and repair the city's crumbling streets, Kurt Flock launched a campaign to get the potholes on his street fixed.
Like the rest of us, Flock is fed up – especially with the large potholes he's seen on Mass. Ave.
"I've been very frustrated," he said.
"Worst case, you throw out your suspension, get a flat or lose a hubcap. It's happening all over the city," he said.
Flock has gone online to report the worst ones with mixed luck.
"The potholes in front of my house are filled with something that doesn't want to stay there," he said.
The realtor decided to take things into his own hands.
"There wasn't a lot of thought behind it. There was a pothole and a plant and I thought this might be fun," he said.
Flock returned to his office, got online and got to work making a short video called "Adopt a Pothole."
"Volunteers are pitching in to fill the $16 million funding gap in Indy's lame pothole repair program," he wrote.
Here's what follows: Flock potting a plant in that huge Mass. Ave. pothole.
"I was clearly having fun, but this is a serious issue," he said.
Down the street atop the 25th floor, the mayor's office wasn't laughing – especially with this ending.
"They thought people might be confused that the city would actually be running an adopt a pothole program and requested I take that reference down from the video," said Flock.
When he paused, he was told he might be hearing from a city attorney.
"I'm not going to take it down. If they put me in jail for civil disobedience, hopefully something good happens," he laughed.
Source: 13 wthr.com Indiana's News Leader, by Mary Milz