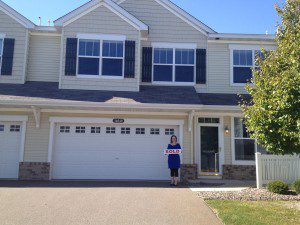 I met Becky when she discovered our home search website several months ago, and after several conversations over the phone and getting prequalified, we met in person for a Home Buyer Consultation. Becky is a wonderful person and we hit it off right away! We discussed her needs and timeline more in detail and set her up on a refined home search to make her experience smooth and successful. Becky knows what she wants and had a clear picture of her ideal place. As we took her out to look at her favorite properties in person, she knew right away when she walked into "the one". We were able to negotiate on it for her and lock it up before anyone else did. It's a wonderful townhome
– built in 2006 with a stellar master suite, a separate tub and shower and double sinks! The place checked out without any issues during the inspection and gave double reassurance that this was the right place.
Becky was amazingly flexible as we encountered some unexpected twists along the way to closing, and I was invariably impressed with her positive nature
– and it paid off! As of the end of September, Becky was the proud homeowner of this spotless Ramsey townhome.
Becky, it has been so wonderful to get to know you and I look forward to seeing you enjoy your home for years to come! Congratulations!