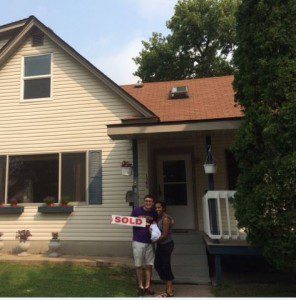 I first connected with Josh and Shalini over the phone from their home in Texas. They contacted our Team to start the process of looking for a place to call home here in Minnesota starting in the Fall for Josh's new job. We discussed their list of wants and needs in their new home and planned to do some searching while they would be up for a wedding in the spring.
Since they had already lived in Minnesota, we were able to spend their first visit looking at a number of homes in the areas they had already narrowed in on and ended up finding one they fell in love with. It met all of their major requirements for location, updates, and space for their first Baby Girl who was expected in the late Summer. Unfortunately, we were a little too far ahead of the game and their ability to close earlier was not something that worked with the Seller of that property. Shalini and Josh felt good about what they had seen – knowing there were a good number of options from their first search and headed back to Texas.
We stayed in touch, and I took them through properties virtually while they remained in Texas, getting ready to greet their first Baby Girl. We came across a couple of great properties in one day of searching and they decided to offer on one being sold by the Owner. Everything went smoothly as we negotiated through the offer, and cleared the Inspection period. We had moved the Closing date around to accommodate the Seller's schedule and then shifted again slightly in hopes of the Baby arriving before Closing so Shalini and Josh and their little one could travel together up for Closing day. Even though she was a little late in her arrival, they welcomed their sweet Baby girl in perfect timing and were all able to make the trip up to Minnesota to purchase their first home together. Everyone sat around the closing table, admiring sweet Baby Girl – just 7 days old – and Josh and Shalini walked out to make their new house their family's home!
Buyer's Agent: Leah Powers