We met Chris and Jamie through Daniel and Jennifer Stahl who are friends of ours from church. We met them at Dan and Jen's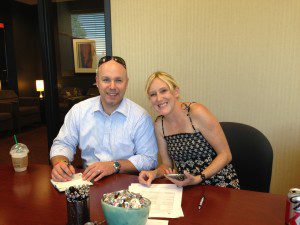 house-warming party and they just have a really interesting story. Jamie has had a lung transplant and is just a very wonderful woman. They also foster dogs a lot. Chris is really into playing pool and plays on leagues. So, when we met with them to discuss the possibility of selling their home, we recommended that they rent it out to be able to capitalize on what they had in that asset as they look for their next home. Their ideal was to find something that would allow them to have one level living for the most part. They also wanted acreage – a decent amount in order to have a little more privacy and space.
So we really focused our energies on one-story homes and acreage. We came across this bank-owned home and one acre lot in Corcoran and made an offer. There were several different difficulties with this home being bank-owned. At first they were going to try to sell to investors, but when that different work out, they started talking to us! They house needed a brand new septic system since it did not meet code, so we negotiated that the seller fix that. We also got a price reduction when they radon levels came out higher than recommended. But we were able to negotiate significantly on the purchase price and in addition, having the seller pay for the septic, which is great for Chris and Jamie.
As the time cam near for them to be able to close on their home, they also made the decision to foster a pair of twins, which they should be getting any day now! We are so excited for them; they are a really nice, good-hearted couple. Once their new home is all fixed up, it will be a really great place for the kids that they will be taking care of. It has been great to get to know them and we are just super excited for them!