I have known Derek and Michelle for about 14 years. Just when I had moved to Minnesota from Mexico, my roommate and best friend was good friends with Derek and Michelle. Derek is amazing at repairing cars and has one of the most mechanical minds I have ever met! Michelle is a stunning baker and can win anyone's stomach over with her baking!
They had a small home in Plymouth for many years, but as Derek's car repair business has grown, they have come to desire to have property with acreage and an extra building where he can take care of fixing the cars.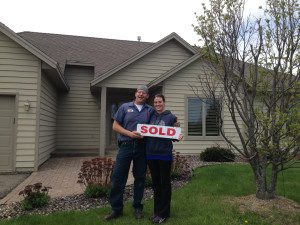 They reached out to me over a year ago with their interest in buying a home in the west metro with some land where they could have an extra building. We have kept an eye on the market for a long time, going out to see select properties that fit their criteria. We made an offer on a different property but the inspection was absolutely bloody, so we ended up cancelling on that property. Then, after several more months, the right home came back on the market.
It was a short sale and the previous buyer had walked after the bank countered. We made an offer on the short sale property and after waiting a few months were able to get the deal accepted by the two banks the seller owes money to. The house is a one story that was built by the homeowner and it had an unfinished basement where Derek and Michelle can add more finished square footage. The property was originally a hobby horse farm, so they have a wonderful pastureland as well as a barn to work with for now.
Derek and Michelle, I am so happy for you and hope you really enjoy your new home!
Cristina Edelstein-Skurat