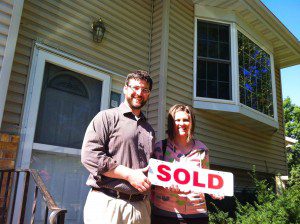 Ross and Megan are a wonderful couple. I actually knew Ross from a camp we went to during our college days, and we ran into each other again a few months ago at a mutual friends' wedding. They were expecting their first child, and not too long before the baby was due, they got in touch with me to discuss their desire to own a home. Those plans took a short break as the baby decided to come a bit early and we welcomed little Amos with great joy!
Not only is he adorable, but he made for some fun – and extremely memorable experiences as we looked at homes just a few weeks after he showed up.
For Ross and Megan, it was very important both to stay within their budget and to be close to work. With that in mind, we considered many options online and narrowed down lists of homes to see in person. There were many that required A LOT of work or that just weren't the right feel for their young family. One early Saturday morning, we found it. A bank owned home in great shape and in a solid neighborhood, with easy access to work for them – complete with a master suite! We jumped on negotiating with the bank, and although the bank was slow in responding and sometimes difficult to work with, the perseverance paid off. As we walked through the home this morning just prior to closing, we all knew this would be a great home for them for many years to come. I've passed them the contact info for some of our fabulous contacts – from handymen to flooring guys to HVAC, they should be set as they make some home improvements and make the house into their home.
Ross and Megan, we are so happy for you and so honored to be a part of this important life decision! Enjoy the home for many, many years.