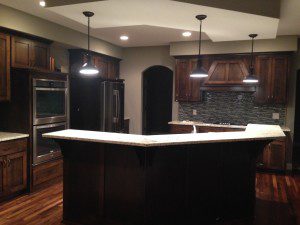 Dana and Beth McKigney are friends of Kerby's from his home town area in Villard, by Glenwood and Alexandria in west central Minnesota. Dana and Beth were ready to sell their house in Champlin and wanted to move into a new home in the Brooklyn Park area. We took a look at several houses – some existing – but definitely landed on a new construction option in northern Brooklyn Park in a fabulous neighborhood and a great school district.
We were able to lock it up on a big lot and they were able to choose all the final finishes that they wanted in the kitchen, colors, all that kind of stuff. We got their Champlin home sold very quickly so they were able to make the transition into the new home without any issues!
Congratulations to you and your little son as you get settled in and enjoy your home, and congrats on hosting Thanksgiving the day after you moved in! I don't know how you pulled that one off, but congrats!!