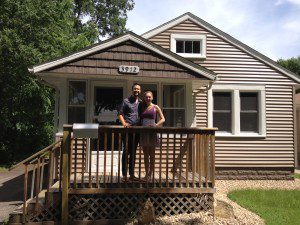 Nate and Robyn Ray are awesome people! They are a great, young couple. They were referrals from old clients of ours. He works for Jacob's Well, which is a small church in Minneapolis. They are working on growing from being a church just for young, college students to be more young families. He does a great job there! They are super nice and very much wanted to stay within a close area by their church, so Minneapolis was really the focus.
The nice neighborhoods in Minneapolis are very competitive, but Nate and Robyn were committed to staying within certain monthly payments. So we did look at several properties and made a couple offers, and finally a really cute flip came on the market.
It's a cute, two-bedroom home and we were able to get that negotiated pretty quickly. It's a small house, but will very much fit their needs for a few years as they get settled in to their new life working at the church.
I really hope that they enjoy that and their neighborhood, and all they can walk to from their house!