Cassie and Peter are referrals from her mother, Donna. Donna and I did some prayer training at New Hope Church together and she is a woman I highly respect and admire!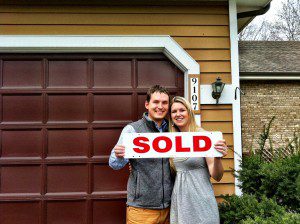 I had the pleasure of meeting Cassie and Peter – they are a super nice young couple getting married this summer! They are both smart, hard workers – she is a nurse and he is an engineer.
They had a not so positive experience with another realtor so they were excited to be able to meet to have a consultation and set a smart Home Buying Strategy.
So we did that and discussed all their needs and their wants in a home. After that we got them set up on a search and got them looking at houses.
It was wonderful to work with them – they had a clear idea of what they wanted and were very decisive. So we were able to negotiate on a house in Brooklyn Park for them. It has an awesome floor plan and a really nice feel when you walk into the house – lots of open space!
They were very flexible people and super fun to work with! It is always amazing to see people that can handle all what it entails to buy a house and get that all scheduled in addition to planning a wedding, which is coming up shortly! We are excited to have been invited to that and wish them the very best as they begin to work their house with little projects like putting up a fence for their dog and getting the house all set up to live in once they get married!