Nick and Kristi were a special couple because they are the brother and sister in law of our very own Liza Schoolmeesters. We were honored that Liza gave us the call to help them out with their move when they decided to transition back to Minneapolis from Fargo this year.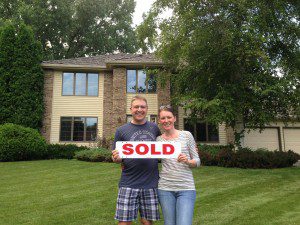 We met virtually and did the consult with them over the internet and then we had them out "looking" virtually and with the eyes of Paul and Liza. We had been to several homes and they had been down to the cities a few times to look at homes, but nothing was right, however, we ended up finding a very nice home in Maple Grove and wrote an offer right away and had it locked up.
We did the inspection, but after the inspection, the seller decided they didn't want to sell any longer, so we were back to square one and out looking again. After a few more weeks, we spotted a home in a neighborhood a few miles from where Nick grew up and where Paul and Liza currently live. We got in there ASAP, wrote an aggressive offer and locked up the home within 12 hours of it being on the market. The inspection went well and after a few months of waiting for the owners to move out, they were in and are now loving it!
Congrats Nick and Kristi on the GREAT home!