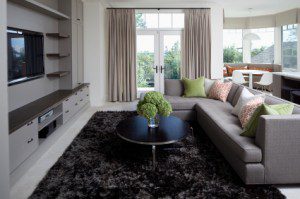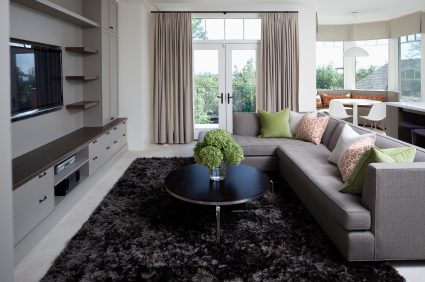 Original article By Erica Christoffer, multimedia Web producer, REALTOR® Magazine
Looking for quick, easy ideas to bring a home to life, add value, or prep for sale without spending a lot? Learn from the pros! Designers who presented at the International Builders' Show in Orlando last week had a plethora low-cost, chic ideas to make the most of an interior space.
1. Transform closets: You might consider turning a smaller, awkward closet into a built-in with cabinetry and shelving, or if there's enough space, even a desk nook. Add dramatic dimension with disc lighting on each shelf. People are looking to maximize every inch of a home with workspaces and storage solutions they'll actually use. (Jerry Collin, Kay Green Design) [Here are some great before and after closet transformations from Real Simple.]
2. Create a 'Garage Mahal': Make the garage an attractive space with a dedicated recycling area, wall mounted shop-vacuum, and maybe a mini (or big) refrigerator for adult beverages. When in doubt, hang it up – provide hanging areas for bikes, tools, equipment, etc. Consider installing a workbench and storage. (Jillian Prichard Cooke, DES-SYN)
3. Avoid seasonal colors: Greys and stone colors are the new neutrals. Accent them with bursts of bright blues, oranges or reds. (Marc Thee, Marc-Michaels Interior Design)
4. Provide simple luxury: A foldout cabana, two outdoor lounge chairs, and a small table is an inexpensive way to give a backyard living space a sense of luxury. Stage it with candles, flowers or cool drinks (iced tea, lemonade, water, etc.)  (Jillian Prichard Cooke, DES-SYN)
5. Set the mood:  Try halogen narrow spot bulbs to create warm, pooled light for romantic shadows and definition. (Marc Thee, Marc-Michaels Interior Design)
6. Faux wood: Textured wall finishes add weight to a space, which can provide warmth and richness to great rooms. Wood mimicking wallpaper is a great way to get the look of wood paneling without big cost or long-term commitment. (Marc Thee, Marc-Michaels Interior Design)
7. Inexpensive creativity: Molding brings depth and clever detail to a space a low-cost: for example, use molding assembled as a square over a bed with two smaller pictures hung side-by-side within the square. (Jillian Prichard Cooke, DES-SYN)
These are just a few easy ways to transform the look of your house without spending a lot. For more ideas and creative tips, check back next week!