When it comes to renovating or making over a space, most folks are usually looking to have the biggest amount of bang for the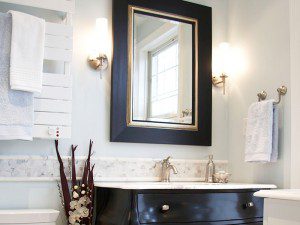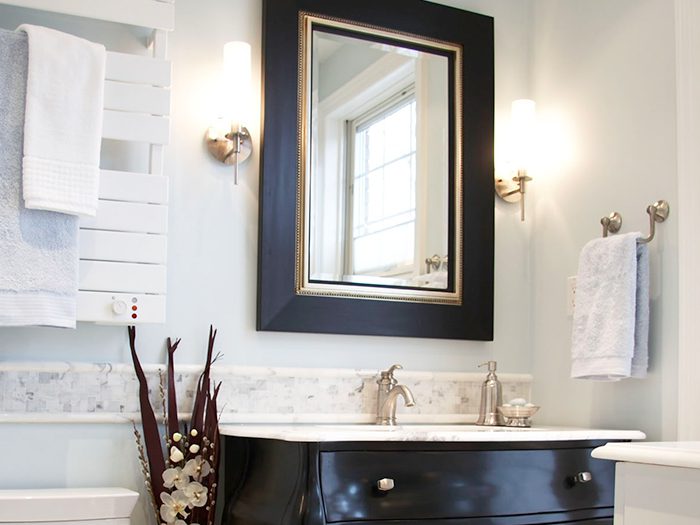 smallest amount of buck. There are some places where cutting corners is a great idea and others that can lead to disaster.
Want to see where you can save a few pennies?
Accessories: Let's start with the outermost layer of the bathroom shall we? It's easy to $9.99 yourself to death when it comes to accessories. Plus, it's easy to rationalize extra things by saying they'll hold "guest towels." Instead, try looking to places like IKEA to get sleeker style for less, or wait for things to be on clearance at your local big box store. Don't forget about thrift stores or even the dollar store for things like trashcans or organizational solutions.
Tile: When it's time to start tile shopping, you quickly think of the major tile shop in your town. Most cities, however, will have several discount tile shops where you can find deep dollar clearance lots. You might want that $12.99/sqft green glass tile, but friends, white 1″ tile is always in style, and it can usually be found for less than $3.00/sqft if you know where to look.
Hardware: Seriously, have you seen the price of bathroom hardware these days? It's likely to give you a heart attack. That said, I'm not going to tell you to hit up the local Walmart and buy some $4.99 piece of junk aimed at renters. Instead, watch eBay. You can buy Restoration Hardware-type pieces for Target prices and it's shipped to your door.
Paint: Even though the idea of doing wall to wall and floor to ceiling tile is appealing, it can be pricey. Instead, keep the tile on the floor and just in the shower to cut costs and do the rest in paint. It's far less expensive and can add a great deal of color and drama to a space, even for those who like minimalistic design.
Have you recently remodeled a bathroom? Where did you cut corners? If you want help finding the right person for the job, give us a call! We know a ton of great people who would do an excellent job in your home too!
By Fox News Magazine