Justin and Tara were referrals from good friends of Kerby and I. When I first met them they had a lovely little girl, and now they also have a baby boy. 🙂
They had been in their townhome for a while, and it was no longer the right set up for their growing family. Although, they loved the location, the beautiful view they had with a nature reserve right behind, and the amount of privacy they had for a townhome. It was time to find something that they could love just as much!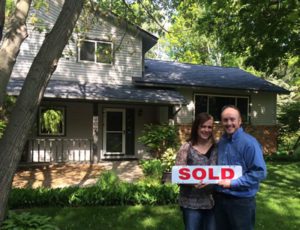 We helped them get ready over the course of a few months, and tested the market last year. There were a few units in their area that were distressed properties and they were affecting their prices in the area. We decided to hold off on listing it longer at that time, given they were about to have a baby, and decided to wait for this spring. It was THE RIGHT strategy since we were able to sell their townhome very quickly after it went active and got a great price for their home. The inspection was very smooth, and although we had a little bit of a challenge with the appraisal, we were able to contest it and got the appraiser to adjust it to our full selling price! Everything else for the closing was extremely smooth, and I am very happy for Justin and Tara and their family.
After we sold their townhome, it was time to get out and start looking for the right new home for them. We had been looking for a while and had been keeping an eye on the market over the last year, so when we found the right house that Justin and Tara absolutely wanted, we jumped on it! We were able to negotiate the necessary inspection items, and had a smooth pathway to closing on the buy side as well.
Justin and Tara, I wish you the best in your brand new home! 🙂
Lead Agent, Cristina Edelstein-Skurat