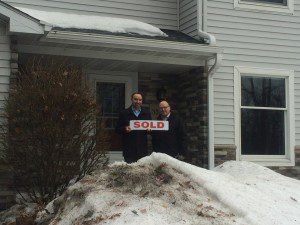 Thomas and Adam are a wonderful pair. We met with them awhile ago to discuss helping them find their new home. We also put a plan together to sell their current Minneapolis home. After we set out to view properties, we soon realized that the Richfield market does not offer the right kind of home they were looking for. Shortly after, I found an investor who would remodel the house to their tastes. Unfortunately after many weeks of effort, we realized that the investor was using public funds, which no longer conforms to the loan they were approved for. This home was no longer a good fit.
We set off to find a new home, and eventually expanded the search to Robbinsdale. Shortly thereafter we found an incredible home that was a perfect fit for their needs and updated wonderfully on top of being a newer construction for the area. The sellers were great, and we had a very smooth closing.
We are very excited for you, Thomas and Adam, as you settle into your new home. Congratulations and we look forward to getting your Minneapolis home sold soon!
Cristina Edelstein-Skurat