Dave and Megan were referred to me by a couple whom I had helped find their first home last year. We sat down for a typical consult at my Uptown office and went through their goals. Since they were expecting their first child, they wanted to find a home and get settled in before the big day!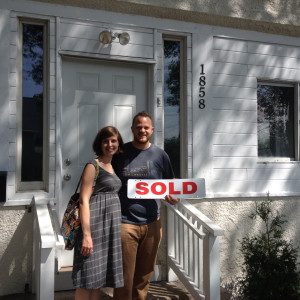 Both Dave and Megan have a passion for community involvement and ministry, and wanted a home in a location that would be conducive to relationship building with neighbors. We focused on the Philips neighborhood in Minneapolis, and decided to look at both duplexes and single-family homes. After a little searching, we decided that a single-family home would probably be a better fit, but they still wanted an extra room or two to rent out if the opportunity arose.
We eventually found two homes on 26th Ave right next to each other. One was a recent remodel, and the other was currently being occupied by another young couple. After crunching the numbers and a lot of deliberation, Dave and Megan decided to pursue the remodel. The home was beautiful, with vaulted ceilings, new appliances, and a bright, sunny interior. We put in an offer and had an accepted contract soon after. The inspection pulled up a few items to be repaired, and the sellers were happy to make the changes.
Now, Dave and Megan are settled in and getting the house ready for the new addition to their family. I've greatly enjoyed getting to know you both and help you with this big step in your lives. I wish you all the best and am excited to see what you do with the place. Welcome home Dave and Megan!
Buyer's Agent, Ryan Bunke