Vijay and Vidya reached out to me through an agent they knew in California. They were being relocated to the Twin Cities area for Vijay's work and since we do a lot of relocation business, we were a natural fit. They had the opportunity to talk with another agent, but felt our team was the best fit to help them achieve their goal of finding the right home in the Twin Cities and within the timeframe they had to relocate.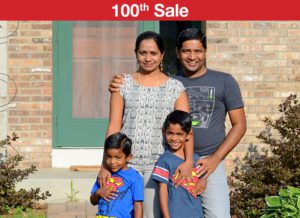 We started off by doing a "virtual" home buying consultation, which consisted of me sharing my computer screen with them and talking them through our home buyer guide, their goals and identifying their top "needs/deal breakers" in their home and also their top "preferences." As a team, our goal is to always work to find as much of both the needs and preferences as possible, but if it comes down to it, we want to have clarity as to what are true needs vs just wants so we don't lose out on a great house by that may not have one of the wants but they would be willing to work around it for what the home does have. One of the most important things for them was to be in a great school district, and also to be close enough to Golden Valley, where Vijay was working. They wanted to ensure that their two boys would be in a great spot neighborhood-wise.
The next step was then to identify the best options for them to look at and see in person with our awesome showing agents. The first rounds of showings gave them a good idea of what the options were, and so we then updated their search by making a few tweaks that opened up better options for what their family needed. As soon as we found the right home for them, we set to work doing all the homework to make sure their questions were answered and they had full confidence on moving forward. The home is beautiful and in a cul-de-sac and it has the most amazing back yard backing up to a wetland. Plus, there is a great playhouse for the kids to enjoy in the summertime, topped off with a hot tub on the deck! We were able to negotiate a great price for them on this huge home, which had a 3 car garage (one of their "wants"). The inspection had a few concerns for them, which were able to get negotiated with the sellers.
While I never got to meet Vidya in person yet, since she wasn't at the closing personally, it has been such a privilege helping the whole family move!
Vijay and Vidya, I hope you greatly enjoy your new home and I also hope to see you at our summer BBQ coming up in July so I can meet the whole family!
Lead Agent, Cristina Edelstein-Skurat